Houston LASIK Eye Surgery: Learn the Benefits, Cost, & Safety
When it comes to having LASIK eye surgery in Houston, making the right choice for a vision center can be crucial. That's why it's important to choose a trusted leader with a proven track record in expertise, affordability, and convenience. Discover why we are the go-to choice for Houston LASIK eye surgery procedures.
What is LASIK Surgery?
LASIK, short for Laser-Assisted in-Situ Keratomileusis, is an advanced technique that employs the cool beam of an excimer laser to address nearsightedness, farsightedness, and astigmatism. This quick procedure takes approximately four minutes per eye and is nearly painless, providing near-instantaneous outcomes. With its effectiveness, it's not surprising that LASIK eye surgery has become a go-to option for millions of individuals worldwide looking to improve their vision.
Our Modern LASIK Technology – iDESIGN LASIK 2.1.1 Technology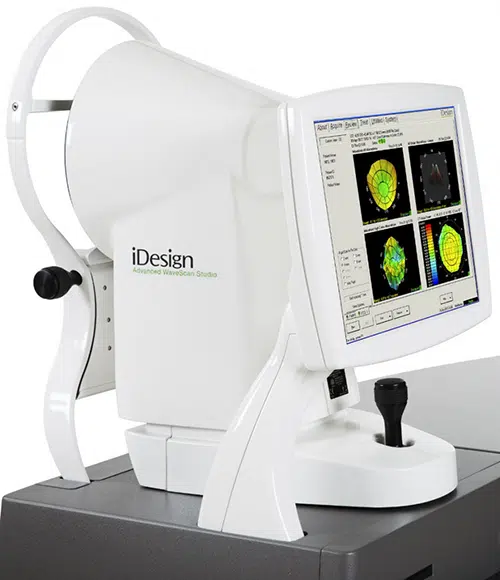 Berkeley Eye Center is proud to be the first and only LASIK surgery provider in the greater Houston area to offer the iDESIGN Refractive Studio. iDESIGN allows us to provide our patients a next-generation level of LASIK customization with a single, three-second scan of the entire human optical system.
Each iDESIGN treatment plan begins with a wavefront analysis to measure how light travels inside the eye, detailing thousands of imperfections in a patient's vision. The corneal topography scans the outside surface of the eye, measuring and analyzing tiny variations in curvature and elevation. The combination of the two measurements delivers a custom LASIK procedure tailored for each eye that was unattainable with previous LASIK platforms. The iDESIGN technology is also the only available custom LASIK surgery platform indicated for monovision LASIK in presbyopic myopic patients.
Our LASIK Eye Surgery Technology Has Proven Results
Faster visual recovery
Fewer dry eye symptoms
Over 5 million IntraLase procedures
10+ years of research to improve safety and precision of LASIK
Allowed by NASA and the U.S. Military where precise vision is demanded
Your LASIK "Prescription" – As Unique as Your DNA
Since the late 1900's conventional LASIK surgery has been the procedure of choice for surgeons worldwide in their effort to reduce and eliminate the publics dependence on corrective eyewear. In conventional LASIK, the patient's prescription is simply entered into the laser for treatment.
Today, leading surgeons, like our doctors, are taking LASIK to the next level with CustomVue, a Wavefront-Guided Custom laser procedure approved by the FDA. During the CustomVue procedure, diagnostic information gathered during the WaveFront scanning process is fed directly into our VISX Star S4 eye-tracking laser.
Just like your fingerprint and DNA, the information fed into the laser is unique to your eyes only. Each of your eyes will receive its own custom laser procedure, where no two custom procedures in the world are identical.
For corneal reshaping, we use the VISX Star S4 eye-tracking laser with Iris Registration. Eye-tracking means that the laser shifts with the eye as it follows the landmarks on the eye. Iris Registration is a non-contact method for aligning the advanced CustomVue procedure. We are able to take photos of landmarks on each individual's iris so that the laser correctly centers and aligns the treatment on the iris. With Iris Registration, there is no possibility of treating a wrong eye or the wrong patient.
Flap Creation – 5th Generation Intralase (iFS) Laser Technology
Some practices still use a mechanical, bladed device called a microkeratome to create the flap. With the bladed style microkeratome there was an increased risk of complications such as corneal abrasions, irregular flaps, as well as button-hole flaps. The Intralase laser has 3X more flap stability than a microkeratome-created flap.
We are proud to include the 5th generation iFS Laser – now in all of our laser eye surgery centers.
The Benefits of LASIK for Eye Vision Correction
We offer the latest laser technology and techniques by uniquely qualified surgeons who have performed tens of thousands of procedures combined. As you continue your research about LASIK Houston surgery and vision correction procedures, here are a few more advantages of LASIK to keep in mind about Berkeley Eye Center:
Fast Procedure
Our LASIK refractive surgery procedure takes only a few minutes to complete and patients remain awake and comfortable during the entire procedure.
Short Recovery Time
Patients can have surgery on a Friday and return to work on Monday. This is a result of faster laser treatment times, proper pre-op procedures, minimally-invasive laser treatments and a proven regimen of post-op care.
Quick & Comfortable Procedure
Using our advanced all-laser iLASIK technique, the actual laser treatment time is 60-seconds or less, with patients reporting little to no discomfort.
Save Money
After factoring in the expenses of glasses, contact lenses, and contact lens solution, it becomes apparent that the cost of undergoing the LASIK procedure is lower
How Much Does LASIK Cost?
Many potential patients ask, "How much does LASIK eye surgery cost in Houston?" Our trusted and accomplished LASIK surgeons at Berkeley Eye Center wants to help everyone get quality LASIK easily. If you're thinking about getting LASIK, you might be wondering how much it costs. We have one price for LASIK no matter how much correction you need. We're not the cheapest or the most expensive, but we believe we give the best value. We use the latest technology and equipment to make sure you get the best possible results.
Many potential Houston LASIK eye surgery patients also wonder what is included in the LASIK price. The good news is that the initial screening and testing to see if you're a good candidate for LASIK is free. If you are a candidate, you'll have a more thorough eye exam and additional testing. Once you're cleared for LASIK, the cost of the procedure covers your post-operative check-ups for 6 months and any extra treatments you might need within the first 2 years.
Is LASIK Safe for Vision Correction?
LASIK eye surgery in Houston Texas is considered a very safe procedure for vision correction and better vision. It's been around for over 25 years, and millions of people have had LASIK surgery to correct their vision.
That being said, like any medical procedure, there are risks and side effects involved. The most common side effect of LASIK is dry eyes, which can usually be treated with eye drops. In rare cases, people may experience halos, glare, or other vision problems after LASIK. The vast majority of people who have LASIK are very happy with their results and have no complications.
It's important to choose a reputable LASIK surgeon who has a lot of experience with the procedure, and to make sure you're a good candidate for LASIK before having the surgery. Your eye doctor will evaluate your eyes and let you know if LASIK is a good option for you.
Overall, LASIK for eyes is considered a safe and effective procedure for correcting vision. It's important to weigh the risks and benefits and make an informed decision with the help of your eye doctor.
The LASIK Procedure
Are you wondering, "How Does LASIK eye surgery work?" Our LASIK surgery procedures are performed in the comfort and safety of a specially designed laser suite at Berkeley Eye Center. To help reduce possible risks and complications, factors such as humidity, temperature and overall air quality are closely monitored and maintained.
Upon arrival on the day of your surgery, you and your guest will be invited into our internal waiting room. You meet with the surgeon, who will provide a final exam and answer any questions you or your guest may have. The preparation and 'relaxation' takes the majority of time, then the laser correction begins – 60 seconds or less – in reality.
Step 1 – Pre-Op Exam & Questions
Step 2 – LASIK pre-operative area to help you relax and prepare for your procedure
Step 3 – Enter Laser Suite for two-step procedure: flap-creation and laser correction.
Step 4 – Post-Op Exam & Instructions – most patients exclaim they can already see!
Many of our guest waiting areas provide an optional 'viewing room' so the guest can remain outside the sterile area, while watching the actual life-changing procedure!
Am I a LASIK Candidate?
LASIK is a popular laser eye surgery procedure for correcting vision problems such as nearsightedness, farsightedness, and astigmatism. However, not everyone is a good candidate for LASIK. These are some of the several factors that determine whether you are a suitable candidate for LASIK.
Your age
Overall health
Health of your eyes
The thickness of your cornea
Shape of your cornea
How long your prescription has been stable
Other factors that can affect your candidacy is if you have an eye disease or rheumatoid arthritis. A comprehensive eye exam and LASIK consultation with a qualified eye doctor can help determine if LASIK is right for you.
How Do I Choose The Best LASIK Surgeon Near Me?
Choosing the best LASIK surgeon is an important decision that requires careful consideration. Here are 5 steps you can take to find the best ophthalmologist near you:
Research: Start by doing some research online to find LASIK surgeons in your area. Look for surgeons who are board-certified and have experience performing LASIK surgery. We have been providing LASIK for 25+ years with a company history of 60 years. Our award-winning experienced LASIK eye surgeons have been named "Best Doctors® in America".
Check reviews: Read reviews from previous patients to get an idea of their experience with the surgeon. This can give you an idea of the surgeon's reputation and the quality of care they provide. We have over 15,000 5-star reviews!
Consultation: Schedule a consultation with the surgeon to discuss your candidacy for LASIK and ask any questions you may have. We offer a free LASIK consultation to make sure we are the right surgeons for you.
Technology: Look for a surgeon who uses the latest technology and techniques in LASIK surgery. This can improve the safety and effectiveness of the procedure. We are always investing and helping the industry develop the latest technology.
Cost: Consider the cost of the procedure and any financing options that may be available to you. We offer special financing and discounts for our everyday heroes including teachers, firefighter, police officers, military, medical professionals, and EMTs. We also offer LASIK promotions to help make your surgery affordable.
By taking these steps and carefully evaluating potential LASIK surgeons, you can choose a skilled and reputable surgeon who can help you achieve the best possible outcome from your LASIK procedure.
Frequently Asked Questions About LASIK
Can I Get LASIK for Nearsighted, Farsighted or Astigmatism Vision Issues?
Each year, more than a million people undergo LASIK surgery to surgically treat their nearsightedness (myopia), farsightedness (hyperopia) and astigmatism and become glasses-free. No more contacts or glasses, no more hassle! LASIK is not typically used to correct presbyopia or age-related reading-vision in patients ages 45+.
However, there are additional options such as monovision and exciting treatments to help reduce the need for reading glasses for patients age 40+ who are experiencing vision loss. We have treatments to help with glaucoma, cataracts, and severe dry eye.
What is the LASIK Recovery Time?
Well, the good news is that LASIK recovery time is usually pretty quick! You'll be able to go home right after the procedure, and most people can return to their normal activities within a day or two.
After LASIK, you must take care for the first week. Avoid rubbing your eyeball or exposing them to water to prevent irritation and infection. Use an eye shield while sleeping to protect your eyes during the initial few nights.
Your eye doctor will give you specific instructions for your recovery based on your individual needs. But in general, most people are able to see better within a day or two after laser eye surgery. The recovery time is pretty quick compared to other types of surgeries.
Is LASIK Painful? Does LASIK Eye Surgery Hurt?
You shouldn't feel any pain during the actual vision correction surgery. Before the surgery starts, the doctor will put drops in your eye to numb it completely.
During the surgery, you might feel a little bit of pressure around your eye, but you shouldn't feel any pain.
Before the surgery, you might be given a medicine to help you relax. This can make you feel a little drowsy or sleepy, so you might take a short nap during the surgery.
After the laser vision surgery, your eye might feel a little bit irritated for a few hours, but most people are comfortable after they take a nap. Your doctor will give you eye drops to use after the surgery to help your eye heal and stay comfortable.
While you might feel a little bit of pressure during the surgery, you shouldn't feel any pain, and most people are comfortable after the surgery.
How long does LASIK Last?
Many potential patients ask, "Does LASIK eye surgery fix your eyes forever?" LASIK is a permanent procedure. This means that the changes made to your eyes during the surgery are permanent and will not change as you age. However, it's important to note that the aging process can still affect your eyes. You may still require glasses or contact lenses for reading or other activities as you get older.
Additionally, LASIK cannot prevent future changes in your vision, so it's important to maintain regular eye exams and follow-up appointments with your eye doctor to monitor any changes in your vision.
Client Reviews
"I have worn glasses since I was in elementary school. I had a pretty high prescription and an astigmatism. Not anymore! I can see all on my own. If you were born with perfect vision you do not understand this… but for me its a miracle everytime I wake up and can see right away. Dr. McCauley and his team did a wonderful job taking care of me and explaining everything throughly. Thank ya'll!!!!"

"My entire experience was nothing but exceptional. I went in for a 2nd opinion for Lasik and Diana was the best. She made me feel like a regular even though it was my first time. I then saw Dr. Palumbo and he was great as well made me feel at ease for my procedure even if there was a small bump in the road he explained my option in great detail. Nothing but 1st class from the front staff to the back staff. Definitely would recommend if you are considering Lasik or just for your standard eye care."

"Just got LASIK done on Friday and everything is great! It was very fast, I was very nervous but after a couple of minutes everything was fine. LASIK process was less then 10 minutes. The healing is going well. I loved how they explain everything to you. I highly recommend Berkeley Eye Center, with Dr.Caplan"

Schedule Your Houston LASIK Consultation
If you're tired of dealing with glasses or contact lenses and are interested in LASIK, don't hesitate to schedule a consultation with a qualified LASIK surgeon. By choosing Berkeley Eye Center, you'll be working with a team of experienced, board-certified surgeons who use the latest technology and techniques to deliver safe and effective LASIK results. During your consultation, the team will evaluate your eyes and discuss your options for LASIK, helping you make an informed decision about whether this procedure is right for you.
So why wait? Take the first step toward clear vision and book your LASIK consultation with Berkeley Eye Center today!